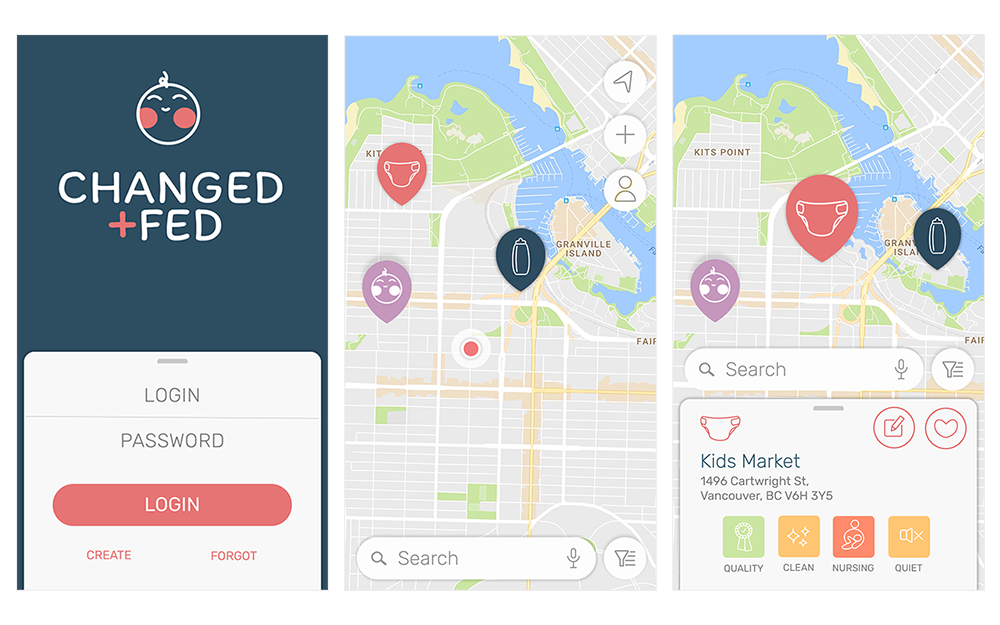 Tools: Adobe Illustrator, Adobe Photoshop, InVision
Timeframe: 3 weeks
Changed + Fed was started by 2 moms who saw a need to have a location services app for parents and caregivers to find places they can change and feed their babies when they are outside. As new moms, they were anxious when they go to an unfamiliar area and need to find places they feel safe to change and/or feed their babies. Existing location based apps in the market, such as 
Moms Pump Here
, did not have good UI.
The clients wanted an app that looks gender neutral and something that parents and caregivers can quickly use when they are outside and need a place to change and feed their babies.
Nowadays, more and more apps use cards, such as Apple Wallet, as a way to organize information and space saver.Since parents were often very busy and needs to find information quickly on the app, we want to give them enough information while not making the app cluttered with too much unnecessary details. We featured cards in Changed + Fed to organize necessary information for parents at a glance.
All iconography was custom designed for Changed + Fed. We followed the iOS Human Interface Guideline on how big the icons and how thick the icons will be (75px*75px and 2 strokes). We wanted all icons to be rounded and whimsical. We took inspirations from Google Material Design in creating more depth in the app.